Learn. Leap. Soar.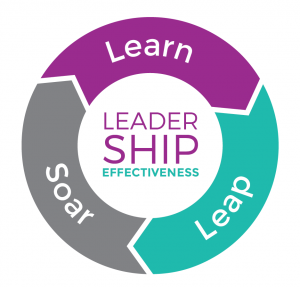 Learn. Leap. Soar. is a self-reflective and action-oriented guided approach to evolving as a leader. This virtuous cycle enables you to acquire fresh perspectives and an enhanced capacity to achieve goals. Leaders who practise this approach emerge more purpose-driven, confident and both inspired and inspiring. They're better equipped to manage complexity and consistently
interact with courageous authenticity.
Learn.
A learning mindset is highly predictive of success. It enables us to innovate and change. As your coach, I guide you to your learning edge with compassion, candour and humour. Together we take a deep dive into your creative competencies along with the beliefs and reactions that impede your effectiveness. Our coaching conversations, along with the integrating and practising you do in between, repeatedly push out your learning edge — and the things that once made you tremble, propel you forward.
Leap.
When you leap, 'trust' is the operative word – in your competencies and strengths as well as those of your team. We reinforce your ability to lean into the unknown and take decisive action while successfully managing risks. Together we explore the big picture – including your team and the system in which it operates – to create clarity in the face of complexity as well as new possibilities. You actively help your team lean into their purpose and strengths, which in turn enables them to dial down drama and conflict while ramping up their impact and resilience.
Soar.
Soaring happens when you intentionally and systematically build your team's leadership capabilities. You learn to serve as their coach, actively seeking opportunities for your employees to put their strengths into action. You continuously engage in authentic conversations that allow people to get to the creative possibilities waiting on the other side of conflict. When you're soaring, you also see beyond your team, seamlessly finding ways to impact the broader system. And the integrative Learn. Leap. Soar. cycle becomes your way of interacting with the world.
Effective leadership
The most important resource in any company is regrettably also often the scarcest: effective leadership. Go into almost any corporate restroom and you'll learn what people really think about their organization's leadership.
Now imagine walking into yours and hearing people who feel inspired, energized and focused. Who are thriving because they report to a leader with a clear purpose and compelling vision. A leader who is courageously authentic – from the meeting room to the boardroom. The difference is palpable. Like success, it's contagious. And it starts at the top.
The gift of time
In today's fast-paced business world, coaching allows you to slow down to power up. To reflect and connect with your deeper leadership purpose. To generate business strategies, solutions and results that are aligned with this purpose while reaping the benefits of greater vitality and well-being.
One person and a couple of practices that
help me learn, leap and soar
My heartfelt and insightful son
An ongoing and delightful source of learning about the importance of playing on purpose as opposed to playing not to lose. About taking purpose-driven leaps and letting the chips fall where they may.
My mindfulness practice
A continuous reminder to cultivate the reflex to always look for what connects us and nourish the respect, trust and acceptance that lie at the heart of all fruitful relationships.
My Leadership Circle™ journey
A transformative journey where I faced the impact of my limiting beliefs and embraced the challenge of fully embodying my leadership as well as the exquisite paradox that 'greater vulnerability = greater strength.'